[en] We get back: the first step is to take the plane at Mount Pleasant, almost 2 hours in the queue to carry out the "formalities" including the payment of the "tourist" tax at the exit. The few flights – one or two commercial flights and a military one – can justify the slowness?

After the stopover in Punta Arenas, where the Chileans are much less zealous than in Santiago, but they know that everyone comes from the Falklands where the rules are stricter, we continue northwards …

In the meantime we learn that the new group has been blocked in Chile, no Italians are accepted by the Falklands authorities.

And we arrive in Santiago where we move as a group, with some apprehension for the demonstrations of which we see no trace, to the hotel where we have dinner and celebrate the end of the trip with a last Pisco sour (maybe the best).
[fr] Nous rentrons: la première étape est de prendre l'avion à Mount Pleasant, près de 2 heures de queue pour effectuer les "formalités" dont le paiement de la taxe "touristique" à la sortie. Les quelques vols – un ou deux vols commerciaux et un militaire – peuvent justifier la lenteur ?

Après l'escale à Punta Arenas, où les Chiliens sont beaucoup moins zélés qu'à Santiago, mais ils savent que tout le monde vient des Malouines où les règles sont plus strictes, nous continuons vers le nord …

Entre-temps, nous apprenons que le nouveau groupe a été bloqué au Chili, aucun Italien n'est accepté par les autorités des Malouines.

Et nous arrivons à Santiago où nous nous déplaçons en groupe, avec une certaine appréhension pour les manifestations dont nous ne voyons aucune trace, vers l'hôtel où nous dînons et célébrons la fin du voyage avec un dernier Pisco sour (peut-être le meilleur).
Si rientra: la prima tappa è prendere l'aereo a Mount Pleasant, quasi 2 ore di coda per effettuare le "formalità" compreso il pagamento della tassa "turistica" in uscita. I pochi voli 1-2 voli commerciali e uno militare possono giustificare la lentezza?
Dopo lo scalo a Punta Arenas dove i cileni sono molto meno zelanti che in entrata a Santiago del Cile, ma sanno che tutti arrivano dalle Falkland dove le regole sono più strette, si prosegue verso nord…
Nel frattempo scopriamo che il nuovo gruppo è stato bloccato in Cile, nessun italiano è accettato dalle autorità delle Falkland.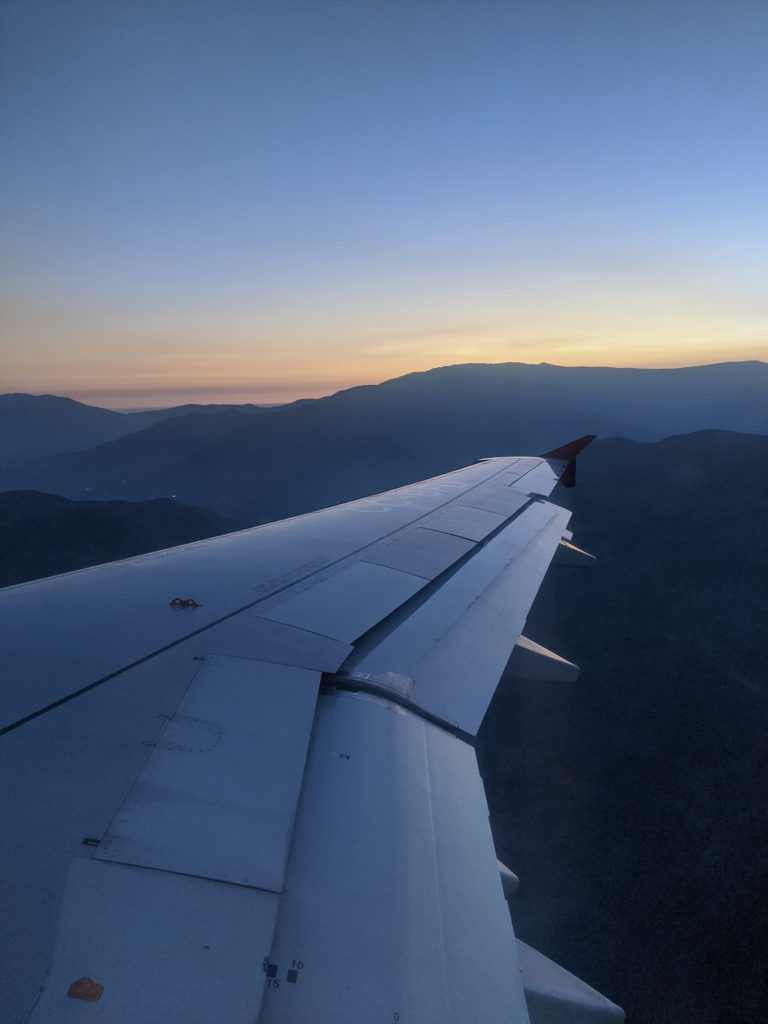 E si arriva a Santiago dove ci spostiamo in gruppo, con qualche apprensione per le manifestazione di cui non vediamo traccia, verso l'albergo dove ceniamo e festeggiamo la fine del viaggio con un ultimo Pisco sour (forse il migliore).
Questa rievocazione del viaggio oggi mi obbliga a una doppia pubblicazione visto che nel 2021 il 29 febbraio non c'è!

This work is licensed under a Creative Commons Attribution-NonCommercial-ShareAlike 4.0 International License.